Just thought that I would put in a cute little blog post about all of the Equipment that I have,  as a Portrait/ Fashion photographer I have a smaller kit that is easier for me to walk around. I had purchased most of my kit in my time at university (When Student finance was a thing) back in the easier days. 
I really love reading these from other photographer but annoyingly they have their "DREAM" kit which we don't all have so I will be writing my current and the closer future and  my DREAM! 
A bit of a personal thing I have also is a life size tattoo of my Film camera on my leg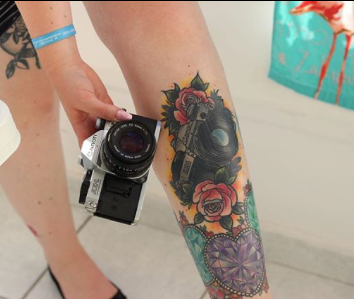 Digital Camera-
Current Camera- 
Canon 80D 
My favourite thing about it!- Flip screen 
Future Camera-
Olympus pen e-pl7
 I am super happy with my current camera and I love travelling so I'm thinking of getting a little Camera to take with me on shoot for a different kind of photo and travelling to save me taking everything.
Dream Camera- 
Sony A7 MKIII
My favourite thing about it!- Mirrorless 
Current Lenses-
Canon 50mm 1.8 
Canon EF-S 18-135mm f/3.5-5.6 IS - My FAV
Canon 18-55mm Kit lens 
Future Lenses-
I have unfortunately recently broken my favourite lens the 18-135 and so I have been researching new lenses that I can buy for my camera.
I am looking at getting another 18-135 and maybe a 28mm 
Film Camera-
Current Camera- 
Canon AE-1 Program 
50mm 1.8 Prime lens
My favourite thing about it!- This beautiful but very broken camera has went on allot of journeys, it was given to me by a photographer who had traveled the world and to me where is travels with me too! A broken aperture ring in the lens but I know what I'm doing!
Future Camera-
I have quite a few camera that I inherited from my Granddad who is no longer with us and I will look after them all and get use from them all.
Dream Camera- 
Hasselblad 500C/M SLR
This beauty is like a dream to look through!! I NEEDDD!!
Laptop-
My Current Laptop-
MacBook Air 13" 2015
My Uni Laptop has done me well but has had its day!
My future Laptop-
APPLE 13" MacBook Pro 
Im going to upgrade to a Pro hopefully!
My dream Laptop-
APPLE 16" MacBook Pro 
I would love a 16 inch laptop so that I can see everything and still a laptop not a desktop as I take it places with me.